You may investigate and apply for apprenticeships at Besi by clicking on the respective company links below.
Stage- en afstudeeropdrachten bij Besi Netherlands
Besi Netherlands biedt plaats aan gemotiveerde studenten die naast het halen van hun eigen studiedoelen ook uitdaging vinden in het verbeteren van onze machines. Machineontwikkeling is een zeer multidisciplinaire aangelegenheid en we hebben dan ook plaats voor studenten uit verschillende studierichtingen (embedded systems engineering, natuurkunde, werktuigbouwkunde, mechatronica, marketing etc.).
Voor meer informatie: hr.besinetherlands@remove-mebesi.com.
Lehrstellen bei Besi Switzerland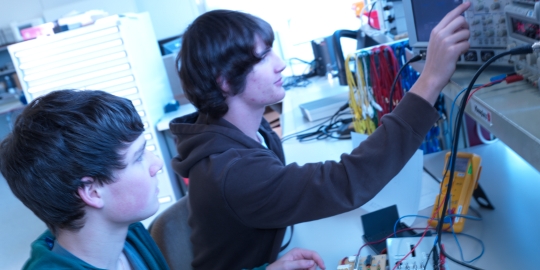 Besi Switzerland bietet seit über 20 Jahren Lehrstellen auf hohem Niveau an. Dabei setzt Besi Switzerland auf eine interdisziplinäre und abwechslungsreiche Ausbildung mit einem hohen praktischen Anteil. Besi Switzerland bildet in den Berufen aus, die für das Unternehmen eine wichtige Rolle spielen: ElektronikerInnen, InformatikerInnen, Konstrukteure und Kauffrauen/Kaufmänner. Eine zukunftsorientierte und moderne Ausbildung ist für ein Technologieunternehmen wichtig. Damit sich nicht nur das Unternehmen erfolgreich im Markt durchsetzen kann, sondern auch die Lernenden eine erfolgreiche Zukunft haben.

Möchtest Du eine Lehre bei uns machen?
Auf unser Berufsbildung-Homepage findest Du alle interessanten und wichtigen Informationen zu den Ausfildungsmöglichkeiten bei Besi Switzerland: www.esec-berufsbildung.ch.
Besi Austria: Lehre - Karriere - Zukunft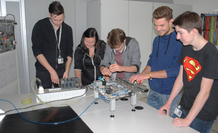 Besi Austria legt oberste Priorität auf beste Aus- und Weiterbildung seiner Mitarbeiter. Know-how, Engagement und Lernbereitschaft: drei Dinge, mit denen Du als Lehrling beste Entwicklungsmöglichkeiten bei Besi Austria, einem international tätigen Unternehmen in der Halbleiterindustrie, hast. Im Zuge unseres Lehrlingsprogramms bieten wir Zusatzausbildungen an, ermöglichen ein Auslands-Austauschprogramm und veranstalten diverse Teambuilding-Events.
Für mehr Informationen benützen Sie bitte das Kontaktformular.