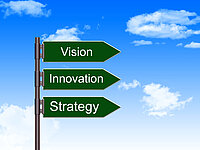 Besi's mission is to become the world's leading supplier of semiconductor assembly equipment for advanced packaging applications and to exceed industry average benchmarks of financial performance. Besi strives to create long-term value for its stakeholders and operate its business in a sustainable way respecting both the environment and society.
Strategic Initiatives
The key initiatives to realize Besi's strategic objectives include:
Developing new products and markets.
Expanding addressable markets, market share and revenue growth potential.
Strengthening and expanding strategic long-term customer relationships.
Expanding Besi's Asian operations, capabilities and supply chain.
Developing common platforms and common parts for its systems.
Achieving a more scalable, flexible and lower cost manufacturing model.
Selectively acquiring companies with complementary technologies and products.
Pursuing a CSR strategy which balances Besi's business interests with its social and ecological responsibilities.
Creating a workplace culture that encourages safe working conditions, respects human rights and diversity and promotes career development.
Through the implementation of its strategy, Besi seeks to increase revenue at rates exceeding the growth of the assembly equipment market, become a more efficient and profitable company with increased market share in those segments of the assembly equipment market with the greatest potential for long-term growth and significantly enhance its scalability and flexibility to respond more effectively to volatile industry order patterns.