Events & Shows
07 Dec 2015
BE Semiconductor Industries Celebrates 20th Anniversary As Public Company
Richard Blickman, Chief Executive Officer of Besi commented: "We are pleased to be here today to commemorate our initial listing as a public company 20 years ago. Since our inception as a public company in 1995, it has been an exciting journey as Besi has grown from being a local Dutch system and tooling manufacturer to become one of the leading semiconductor assembly equipment manufacturers in the world. Headquartered in Duiven, the Netherlands, we offer a broad portfolio of technologically leading die attach, packaging and plating systems to the largest and most sophisticated semiconductor producers globally. Our headcount has grown to over 1,600 employees with manufacturing in six countries and sales and customer service operations in 14 locations internationally. Besi has successfully accessed the public markets to help finance its growth since our initial public offering including a € 97.2 million share offering in 2000 and a € 46.0 million convertible note offering in 2005. In addition, over the past five years, our stock price has increased by approximately 360%, the Company has returned approximately € 117 million to shareholders via dividends and share repurchases and our stock was upgraded to Euronext Amsterdam's AMX mid cap index."
To read the full version of our press release, please download the PDF file.
To view the video of the bell ceremony, please CLICK HERE.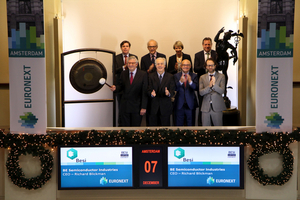 Back to overview